The Advocate – Amy's Story
The Advocate is Real Talk's in-house newspaper featuring stories of family members, friends, and professional support staff advocating for the sexual rights of people with cognitive disabilities. It's meant to provoke conversation – and perhaps debate – about what makes for excellent sexuality support.
In this issue, a New Westminster College Employment Prep Program lecturer makes space for her student to ask questions about gender.
ACF: none
Array ( [post_type] => Array ( [0] => post ) [post_status] => publish [posts_per_page] => 3 [meta_query] => Array ( [relation] => AND ) [post__in] => Array ( [0] => 2270 [1] => 671 [2] => 641 ) [post__not_in] => Array ( [0] => 9910 ) [orderby] => date [order] => ASC )
0.043840885162354 seconds
The Role of Supporters
Family members, friends, and staff all have a role to play in providing sexual health support for people with cognitive disabilities. How we show up for people can make things easier for them, or much harder.
In a 2017, a research team in the UK interviewed people with cognitive disabilities about their experience with romantic relationships, dating, marriage etc. Every single person interviewed who was in a romantic relationship of some sort could point to specific ways their support network had helped them find and / or maintain that relationship. Likewise, people interviewed who were frustrated at not finding a relationship often pointed to ways in which people in their support network had stood in their way.
As well, studies around the world show that people with cognitive disabilities are at increased risk of experiencing sexual abuse. Having a person or people in their lives with whom they can have frank conversations about sexual health topics is a key factor in reducing their risk of abuse.
While it may not be easy or comfortable to engage with folks we support around these topics, the benefits can be profound. And the good news is, we don't have to be perfect at this – or even feel confident  at this – to make a big difference. Join the conversation!
Sexual Orientation & Gender Identity
Everyone – even someone who will never have sex – has a sexual orientation. Sex is about what people do, but sexual orientation is about what people are. It includes things like what kind of person we feel sexually & romantically attracted to – if we're attracted to anyone this way. Words like straight, gay, lesbian, bisexual, and asexual describe some sexual orientations.
When we were born, the doctor probably said "It's a boy!" or "It's a girl!" Gender Identity is about how well we feel these words (boy, girl, man, woman) fit us right now. Do some words feel like they describe us better than others? Do none of them feel right? Words like male, female, cisgender, transgender, and gender fluid describe some gender identities.
This stuff can be fascinating. It can be complicated. We may wonder: Can gender identity or orientation change? Do I need permission to be gay? Are some sexual orientations and gender identities better than others? What does LGBTQ mean? What's with the Pride Parade anyway?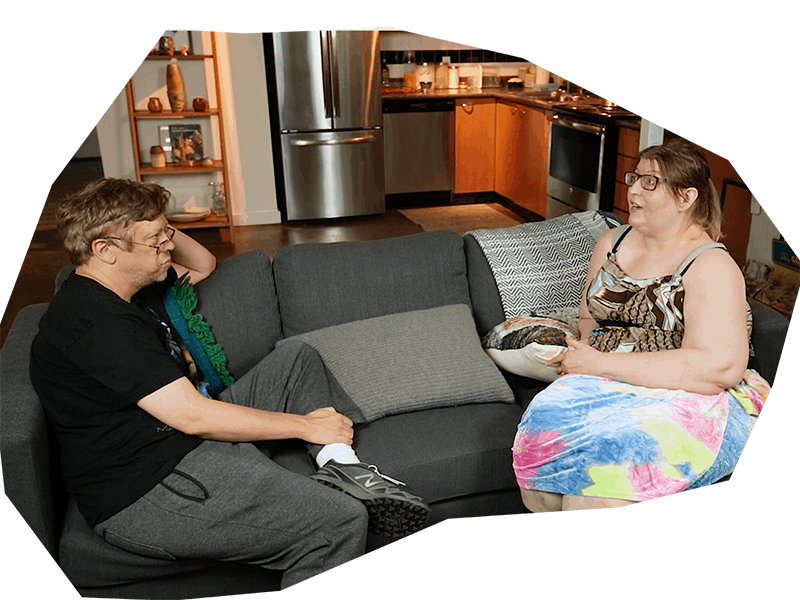 Want to be in a Real Talk video shoot?
We're always looking for participants to be part of our next video shoot, where folks have conversations on dating, love, relationships and sex.