Real Talk, Real World: Womyns' Ware Tour (All Genders Welcome)
November 16, 2022 @ 5:00 pm

-

8:00 pm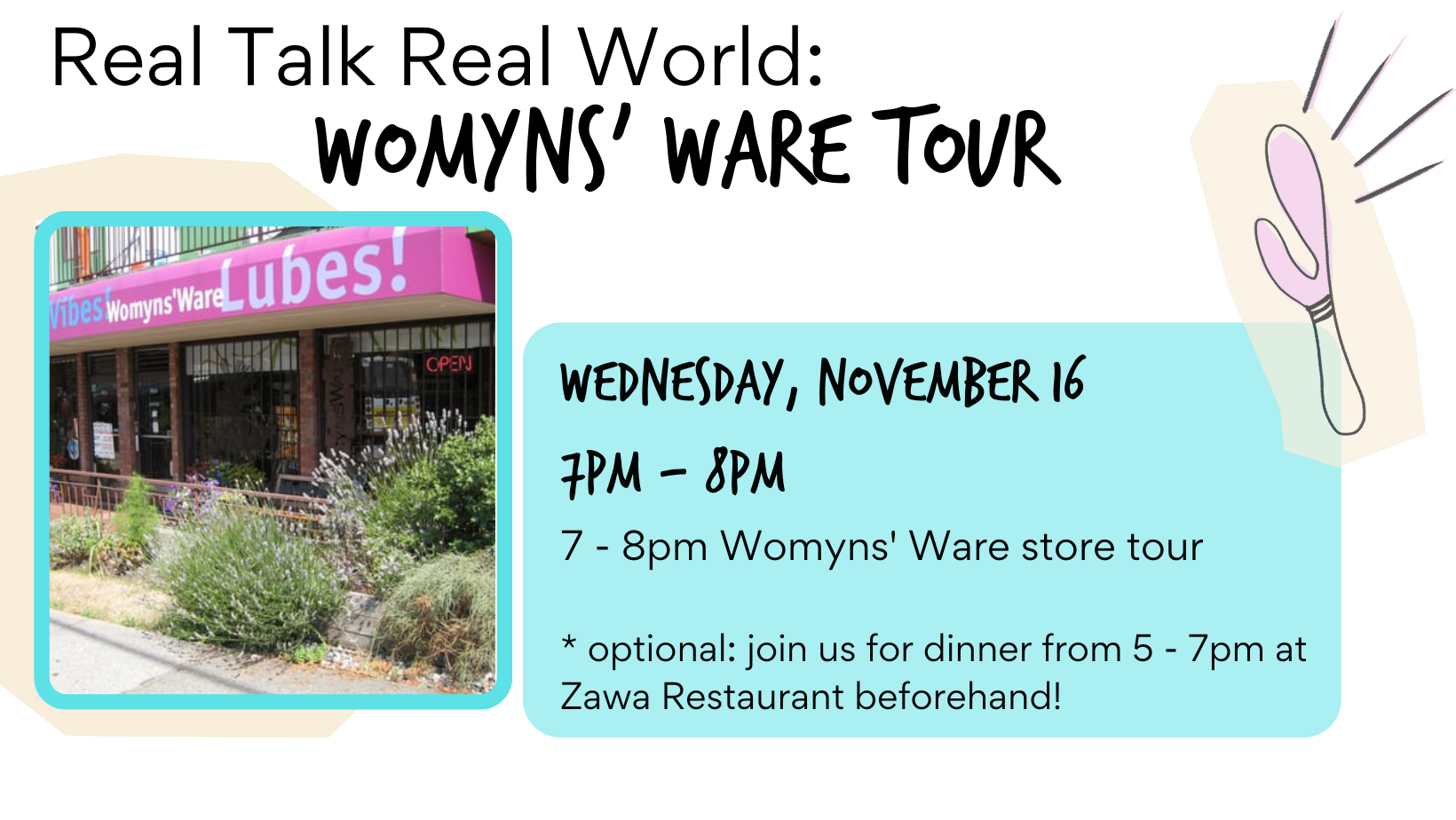 Adults with cognitive disabilities go for dinner, then take a tour of a sex toy store with Certified Sexual Health Educators.
At Real Talk, Real World, we go out into the community and build on learnings we've gained in our Real Talk Hangouts.
Sex toy stores sell many products that can help bring us pleasure, but sometimes people feel embarrassed or shy to visit them.
For this Real Talk, Real World, we'll start the night by going out for dinner, to help us get comfortable and get us talking about what kinds of things we might want to ask during the tour. After dinner, we'll walk over and take a free, private tour of Womyns' Ware – a sex toy store – after it's closed to the public, ask questions of the staff, and find out about what kinds of products are sold. (Note – Womyns' Ware welcomes people of all genders. You don't have to be a woman to visit the store.)
Details:
When:
Wednesday, November 16th
7 – 8pm: We'll walk over to Womyns Ware together from Zawa restaurant and have a private tour.
Optional: you're welcome to join us for dinner from 5- 7pm at Zawa Restaurant beforehand!
Where:
1. A small group of us will meet first at Zawa Restaurant at 5pm (920 Commercial Drive, Vancouver).
2. If you only want to attend the tour, meet us at 7pm at Womyns Ware (896 Commercial Drive, Vancouver)
What to bring:
If you're joining us for dinner, be sure to bring money for your meal ($30 – $40). You can see Zawa's dinner menu here. The private tour is free.
Bring any questions you may have for the Womyn's Ware staff!
What you can expect:
Over dinner, we'll get a chance to socialize and talk about what kinds of questions we want to ask during the tour. It's completely optional to attend dinner.
You can ask any and all questions you might have about the products they sell at Womyns' Ware
We hope you can join us! Any questions or concerns, feel free to send us an email at hello@real-talk.org