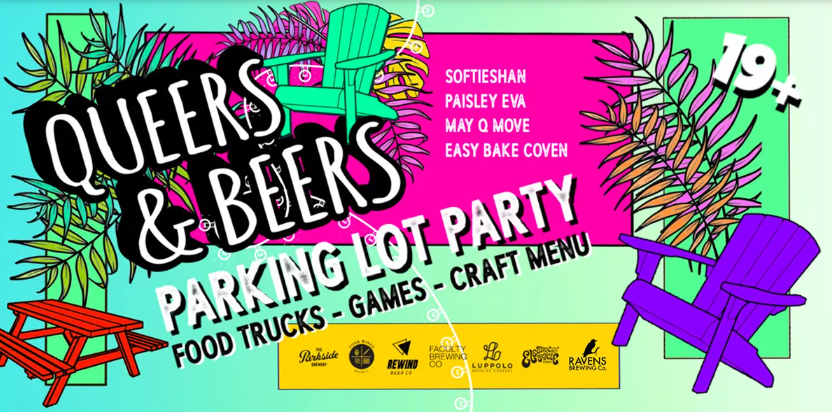 Women and non-binary folks with cognitive disabilities will head to a 19+ queer parking lot party.
Calling all women and non-binary folks!
Join CQC as we head to a 19+ parking lot party featuring food trucks, beer, games, and DJs!

For our next event, we are having a women's- and non-binary focused hangout. We'll head to The Birdhouse by Eastside Studios (44 West 4th Avenue, Vancouver) for a parking lot party, Saturday, June 10th from 4pm – 6pm.
Queers and Beers Parking Lot Party is a fun, chill time. There will be food trucks, alcohol and non-alcoholic drink options, DJs, games, and lots of opportunities to meet new folks throughout the afternoon. You're welcome to stay long after we head out, too!
We will cover your ticket price, one drink, some food, and can also arrange for any transport help you might need (please email us at kelsey@real-talk.org if you need help with this!)
You don't need to bring any money. 
ACCESSIBILITY INFO:
Entrance is ground level through double doors with a wheelchair accessible entrance/exit (double doors 70 in. wide, single door is 35 in). There are no stairs or steps throughout the venue. The door to the outdoor patio is 35 inches wide, there is a cord that is ½" off the ground running parallel before the door to the outdoor patio. All washrooms are all genders. The wheelchair accessible washroom's measurements are as follows: door clearance of 34 inches, sink height is 33 inches, toilet paper is 32 inches from the toilet, paper towel height is 44 inches, and a railing on the right side of the toilet is 31 inches from the ground. The door opens inwards to the washroom, the dimensions of the washroom are 94 inches x 70 inches. Seating available – please feel free to ask security or door staff if you ever require a seat and would like staff assistance in finding a seat.
To register, scroll down and click the orange "Going" button below.