Men and non-binary folks with cognitive disabilities will head to the Pumpjack Pub for a condom packing party.
Calling all men and non-binary folks!
Join CQC as we head to a condom packing party at the Pumpjack Pub!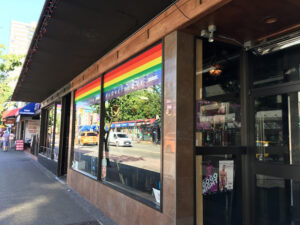 The Pumpjack Pub, at 1167 Davie Street, Vancouver
For our next event, we are having a men's- and non-binary focused hangout.
We'll head to The Pumpjack Pub (1167 Davie Street) for a condom packing party on Monday, August 14th from 6pm – 8pm.
Condom packing parties at Pumpjack are a fun, chill time. There will be other folks there from the Health Initiative for Men (HIM), as well as other men just hanging out at the bar. HIM will be providing pizza, and the event doesn't cost any money. CQC can cover your first drink, but if you think you'll want more food or drinks should bring some money!
We can arrange for any transport help you might need (please email us at kelsey@real-talk.org if you need help with this!). Please also let us know if you need ASL interpretation!
More about the event from HIM:
Looking for a great way to give back? Join us at the Pumpjack Pub from 6-8pm to help cram, stuff, and pack condoms and lube into tight little packages.

While you're there you can chat with your fellow volunteers and have some pizza on us.

This group is open to self-identified men (trans, cis, and other men), two-spirit and non-binary folks who also identify as gay, bi, queer, asexual, and/or as guys who are into/or have sex with guys (for any reason – including for work).
Registration:
If you have an account with Curiko, just click this button and register for the event there:
Register on Curiko
Not on Curiko? No problem! Just scroll down and click the orange Going button below.